Talk of ladders used for fish spotting purposes in my recent
blog
brought back memories of another session from a couple of years ago. I had been a member of the Grenville carp syndicate in Cambridgeshire for two seasons and this is the story of my last session on there.
Thursday the 20th of May 2010 - Grenville lake
Well this was to be my last session on Grenville before dropping my ticket, the spring so far had been pretty disappointing, mostly due to the cold winter and late start to the warm up, but I did hold hopes of one final good session, those hopes were dashed somewhat when I saw the forceast, hot hot hot!
Arriving late afternoon on Thursday I checked in with my mate Wally who was at the time living on site in his camper van before shooting off on my mountain bike for a gander. The lake is 1 3/4 miles in circumference and the bike is an excellent aid to fish location, without a doubt it caught me fish. I only got as far as peg 7 before good numbers of fish became evident on the surface and my fears grew, there has yet to be one caught off the top on the lake since it opened and to my knowledge only ever one zig capture, oh bugger. There was a bloke just setting up in peg 8 and I decided to drop in to peg 9 for the first night as there were even more fish down towards the out of bounds corner to its right hand side.
Now never one to let history dictate too much, or to be honest more because I love surface fishing, my first job was to dig the floaters out and give them some freebies, I sat there just feeding for maybe two hours and did actually get the odd one to take a biccy but not to the extent that they were feeding properly and it certainly wasn't worth a cast but hey, he who dares Rodney. There really were fish everywhere, cruising along the marginal shelf under the rod tops even which is a rare old sight on Grenville and as such two rods were plopped in close for the night. At four am the next morning one was away and a lovely little linear of about 14lb broke the blank, that was a start.
By 7am I was starting to get wander lust and so wound in and went for a look around, I'd a suspicion that fish may turn up in numbers in front of the car park peg where there's a big and relatively shallow plateau but there was not a great deal to be seen, I carried on down to the first viewing tower next to peg 38 and climbed it, oh you little beauties, it's so unusual to see them in the edge at Grenville that it was almost surreal. Maybe 20 or so fish just mooching around the reedy bay and slightly further out, certainly less fish that I had seen up in front of peg 9 but bloody hell, this was my cup of tea I was having some of that.
One of Grenville's viewing towers, superb!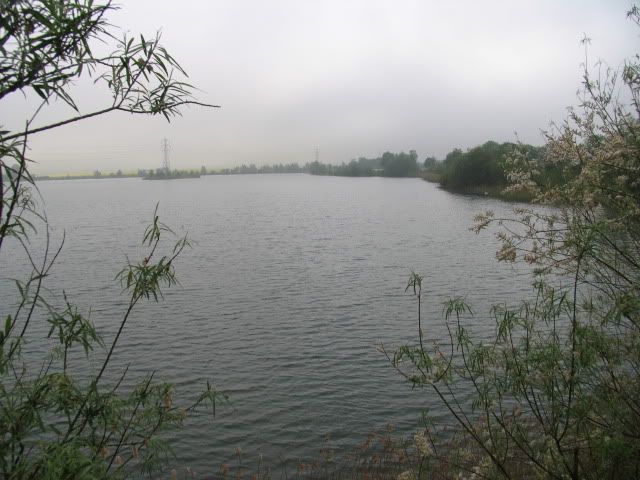 By 9am I was all installed in 38, a swim that very rarely gets fished, and was working out my plan of action, I really wanted to spook the fish out before dropping rigs on them so I took a bag of bait up the tower with me and started to drop one in now and then, no reaction from the fish. I then resorted to two baits at a time, still no reaction they just carried on, gradually I raised the number of baits until I ended up chucking bloody great handfuls in and the only reaction was the odd fish dipping down for a feed. By this stage I was starting to get just a bit excited. Back to the rods and all three were staggered from the reedbed out into the bay and I sat back to relax, yeah right, I was up and down that tower like a fireman on speed. A mate, Himler (yes I'm afraid he does look a tad Nazi) set up across the bay in peg 2 and wandered round for a natter, we were discussing how it had been fishingd lately and I mentioned that I was going to try and scrape to 35 fish for the season, I was on 33 at the time.
Midday the first take came, the drooping line slowing tightening before taking a sharp left as the fish headed for open water.
26lb 12oz
Just after 3pm the same rod was away again, the one closest to the reeds again, before I'd even made a cast that was always going to be the rod to go.
29lb 1oz
An hour later again the same rod was off and a 10lb common surrendered, then just after 5pm it went again
27lb 8oz
and at 6pm I had a 21. By now what was initially a slightly clearer patch on the lake bottom had grown considerably, bits of weed and debris had been popping up all over and the water had clouded up.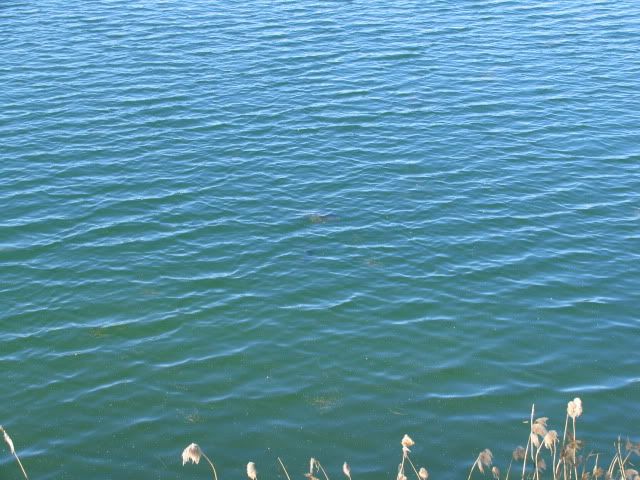 The night was all quiet and it was clear that they were starting to think of spawning, over on the far margin Himler had been seeing fish starting to show signs of spawning and with the temperature getting higher I imagined we were on borrowed time. Saturday morning was a roaster, on climbing the tower the margin spot had lost its colour but there were still fish cruising around further out.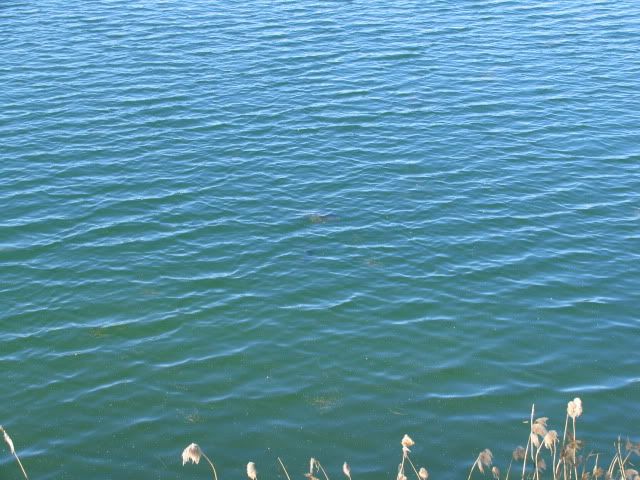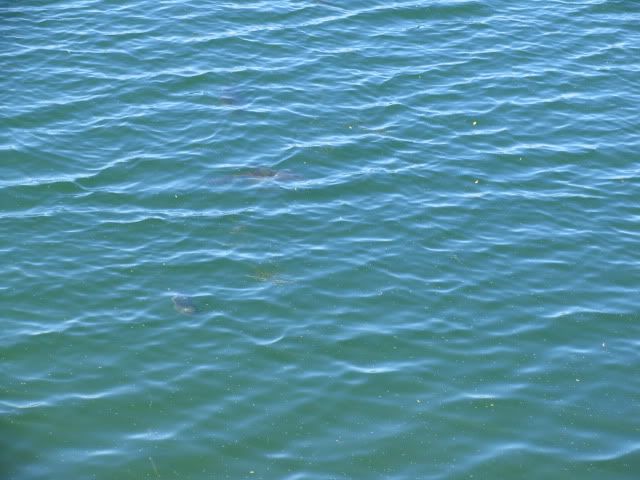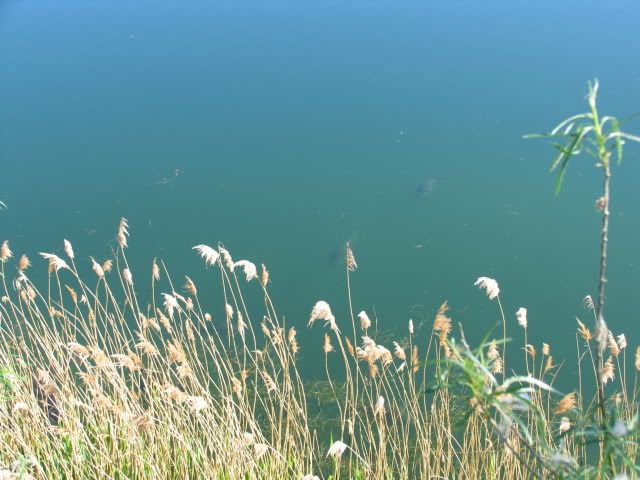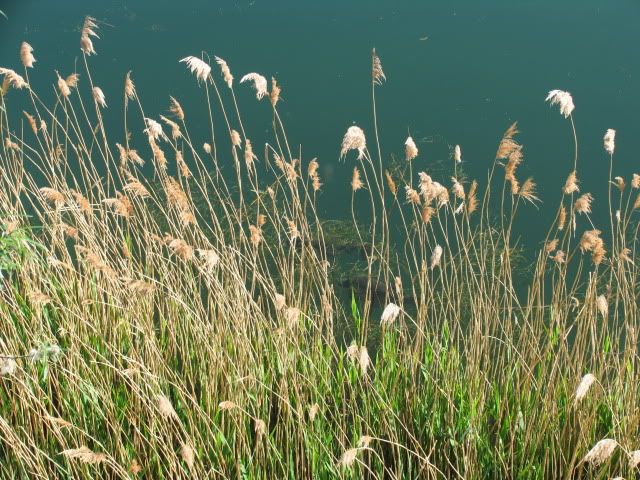 I persevered all day, sweating, dehydrating, and stressing like you do in these circumstances. They weren't having any of it, they had changed completely and I wasn't going to get a bite doing what had worked on Friday, it was time for a change of attack.
In came one of the rods and on went a 7ft zig rig, flicking it in front of the tower with a bit of dissolving foam attached on I legged it round and up the ladder in time to mark the spot, the hookbait was perfectly positioned a foot or so below the surface. I spent ages watching them cruising all around the bait taking not a blind bit of notice, then the odd one started to nudge the hookbait which was something at least. Himler joined me up the tower and gave me some stick just to wind me up a bit more, "aint got a chance on that", "seen 'em ignore zigs for hours your'e wasting your time", you know, just what you really need when your soaked to the skin with sweat and look a touch beetroot in complexion. Anyway there we stood leaning on the scaffold with me giving it the "this time, he'll have it" several times just for the fish to swim past. Another fish was heading in the right direction all on its own, "this time" I said, "no way not a solo fish, you need a group to get some competition" says Himler, and then bless its cotton socks it only went and ate the bait didn't it! Aaaaaaaaaaaaaaaah! Blind panic set in and I descended the double ladder rather swiftly, all the time Himler chanting "don't jump, don't jump!"
The fight was nervous to say the least, I don't like small hooks but had gone to a ten for the small chopped down pop up I had on and just wanted it in the net which eventually it was with a deft scoop from Himler, "about 15lb he said, nice scale"y. On to the mat with it and I thought 15lb? Thats a bit on the low side, no Himler insisted, certainly just a mid double, I parted the net and said "no way is that 15lb Himler you moron". She weighed in at 27lb 4oz and we weighed it twice with a re-zero in between just to shut my little Teutonic friend up ! It was a cracking looking fish, the second ever to get caught on a zig from the lake as far as we knew and a lake record for the scaley strain to boot, was I chuffed? And to cap it off that made me a nice round 40 fish for the season, job done!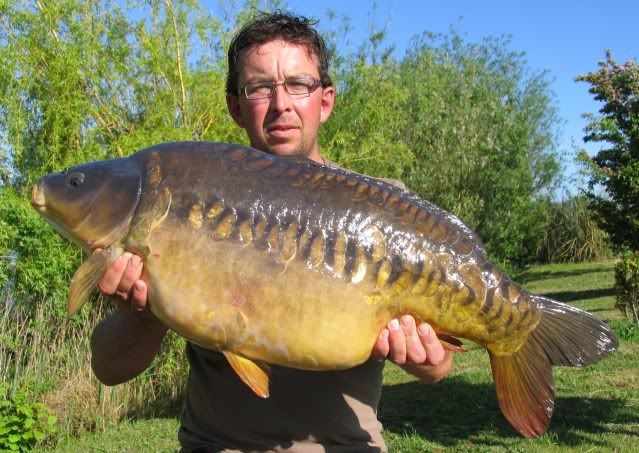 Shortly after Himler trotted off back to his swim I hooked another on the zig and proceeded to give him some sign language abuse across the lake! Unfortunately after a protracted battle the hook pulled under the rod tip, another fish of about mid twenties.
Overnight they really started to thrash about and come morning I wound in, shortly afterwards Paul the lake owner drove round and said that the lake was closing for spawning and fair play to him. We all spent a few hours wandering around watching an amazing spectacle, literally hundreds of big lumps thrashing aound right in the edge, amazing stuff, and then I said my goodbyes, collected my kit and left Grenville for the last time, I took with me some great memories and great fun with good mates, a very enjoyable spell in my angling life.